Science
Teacher contact details
Students learn how knowledge and understanding in science are rooted in evidence. They discover how scientific ideas contribute to technological change - affecting industry, business and medicine and improving quality of life. They trace the development of science worldwide and recognise its cultural significance. They learn to question and discuss issues that may affect their own lives, the directions of societies and the future of the world.
What knowledge and skills will students develop at Key Stage 3
Scientific thinking - Learning the use of scientific ideas and models to explain phenomena and developing them creatively to generate and test theories.
Applications and implications of science - Exploring the ethical and moral implications of using and applying science as well as understanding that new technological developments have consequences in the way people think and behave.
Cultural understanding - Recognising that modern science has its roots in many different cultures and societies.
Collaboration - Sharing developments and common understanding across the curriculum.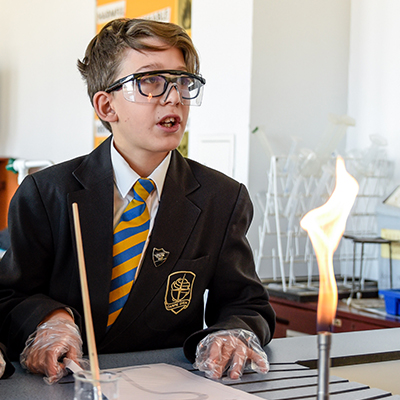 The study of science includes the following topics which are taught throughout Key Stage 3.
Energy, electricity and forces.
Chemical and material behaviour.
Organisms, behaviours and health.
Over the three years students will be developing essential skills which will enable them to learn and make good progress, these are:
Parctical and enquiry skills
Critical understanding of evidence
Communication
In Years 7 and 8, assessment is based on assessing students' progress continually by completing assessed pieces of work for each topic. Understanding and knowledge is assessed by end of topic tests and end of year examinations.
Books/other materials/useful websites to visit/field trips etc
Visit from Zoolab to the school for year 7 students.
Text books used are:
Eureka (Publishers: Heinemann)
Spotlight (Publishers: Stanley and Thornes)
Exploring science (Publishers: Longman)
Homework
Is set once a week, and is usually based on research or consolidation of class work.
How parents can help
Parents can help by ensuring homework is checked for completion and that your child revises science on a weekly basis using a revision guide which can be purchased from the school at a subsidised price.
Exam board past papers can be obtained from the links within each section of the subject pages.
What knowledge and skills will students develop at Key Stage 4

GCSE Sciences
Exam Board - AQA
The Course
The Science department offers two options for studying science at GCSE. Students can either study a Combined Science GCSE course or study separate Science GCSE courses in Biology, Chemistry and Physics.
The Science curriculum aims to develop the scientific knowledge and skills required for students to understand science in the news and to make informed decisions about everyday issues they will encounter.
Assessment
Combined Science GCSE Course
Students will be following the new 9-1 AQA Trilogy specification at GCSE, gaining two GCSE qualifications. Students will take a total of six exam papers each worth 16.7% of the final grade. There will be two exam papers for Biology, Chemistry and Physics. All papers are 1 hour and 15 minutes long.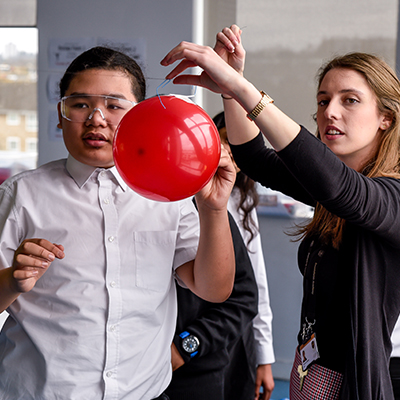 Students will be assessed at regular intervals through the year with multiple choice quizzes, mid-topic assessments and end of topic assessments in each topic.
A link to the specification can be found below:
http://filestore.aqa.org.uk/resources/science/specifications/AQA-8464-SP-2016.PDF
Separate Science GCSEs in Biology, Chemistry and Physics
This course will involve studying three separate Science GCSEs in Biology, Chemistry and Physics. Students will be covering the same content as the combined science students, plus some additional topics.
This course will run over two years and students will have eight science lessons each week. Each of the three GCSEs is assessed by two public exams (50% of each GCSE and 1 hour 45 minutes long), two for biology, two for chemistry and two for physics.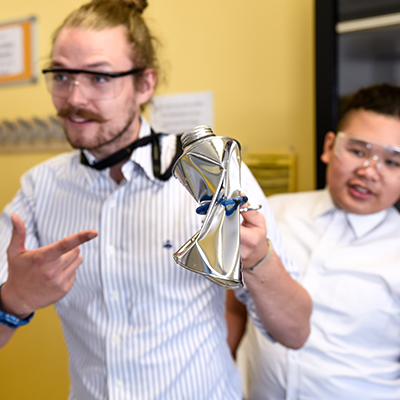 Links to each specification can be found below:
http://www.aqa.org.uk/subjects/science/gcse/biology-8461 - Biology
http://www.aqa.org.uk/subjects/science/gcse/chemistry-8462- Chemistry
http://www.aqa.org.uk/subjects/science/gcse/physics-8463- Physics
Where it leads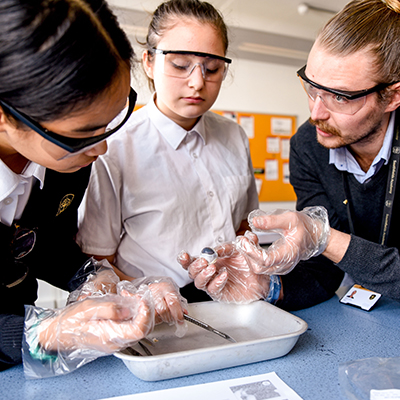 A science qualification can lead to employment at all levels in diverse careers as Medicine, Engineering, Pharmaceuticals and Agriculture.
What knowledge and skills will student develop at Key Stage 5
Biology A Level
AQA 7401 / 7402
https://www.aqa.org.uk/subjects/science/as-and-a-level/biology-7401-7402/specification-at-a-glance
The course will encourage you to:
Develop essential knowledge and understanding of different areas of the subject and how they relate to each other.
Develop competence and confidence in a variety of practical, mathematical and problem solving skills.
Understand how society makes decisions about scientific issues and how the sciences contribute to the success of the economy and society.
There are four units of study in year 1:
Biological molecules
Cells
Exchange with the environment
Genes/Variation
There are four units of study in year 2:
Energy transfers in and between organisms
Organisims respond to changes in their into/ext environments
Genetics, populations, evolution and ecosystems
The control of gene expression
Chemistry A Level
AQA 7404 /7405
https://www.aqa.org.uk/subjects/science/as-and-a-level/chemistry-7404-7405/specification-at-a-glance
Chemistry is concerned with the science of matter, particularly its structure, properties and reactions. Chemistry is of central importance to the sciences as a whole as the chemical reactions that it governs are fundamental to all of science. This course gives you the opportunity to explore the science further and see how important it is to everyday life.
Over the two years you will study a range of concepts across Physical, Inorganic and Organic Chemistry.
Physics A Level
AQA 7407 / 7408
https://www.aqa.org.uk/subjects/science/as-and-a-level/physics-7407-7408/specification-at-a-glance
The Physics A Level course covers the basic fundamentals of physics, including particle physics, optics, electronics and mechanics. At A2, learning is extended to include fields and radioactivity, as well as an optional unit. Throughout the course, practical skills are developed and assessed through 12 required practicals. Students will gain an understanding of how physics has developed over the years and how experiments are analysed to investigate theories.
BTEC Level 3 National Extended Certificate in Applied Science
Pearson
https://qualifications.pearson.com/en/qualifications/btec-nationals/applied-science-2016.html
The BTEC Level 3 National Extended Certificate in Applied Science is a course that is designed for students who want to continue with science at Key Stage 5, or pursue science as a career option but do not wish to complete AS courses in science.
This course will also enable students to take up employment in the Applied Science sector once completed.
The course is the equivalent in size to an A Level but covers the content within a vocational context. The main purpose is to develop scientific knowledge, practical and communication skills.
Year 12 Units:
Unit 1 - Principles and Applications of Science
Unit 3 - Science Investigation Skills
Year 13 Units:
Unit 2 - Practical Science Procedures and Techniques
Unit 8 - Physiology of Human Body Systems