Behaviour System : Reward, Sanction and Repair
Academy Behaviour System : Reward, Sanction and Repair
Ethos and Guidance
Recognising and rewarding student achievement is at the heart of our approach to positive behaviour. Our public celebration of positive behaviour will enable students to see the rewards of positive behaviour and to learn appropriate behaviours of their own.
Aims of the Reward System
To create a positive ethos through effective recognition of achievements. This includes rewarding students who demonstrate behaviour for learning inside the classroom and those who are excellent members of the Academy community outside the classroom.
To ensure practice is consistent across the Academy.
Types of Rewards
The reward system runs in parallel with the behaviour system. The reward system encourages active and direct involvement of all staff and students at Southfields Academy. The system allows for all students to be given the opportunity to operate within the rewards framework.
Central to the rewards philosophy is the expectation that all teachers and staff will praise students, including contacting parents, as a matter of routine.
Such spontaneous day-to-day praise is a key factor in motivating students and establishing a positive climate for learning.
Any member of staff can award a merit if the student is deserving of one.
Students who receive the most merits are celebrated in Assemblies for their efforts. This may also include postcards and phone calls home.
Sanction must not happen without repair (support can be provided). The form this repair takes and where and when will depend on the context of the negative behaviour. The repair must include, and in most cases be led by the initial member of staff who was involved. It is acceptable to do the 'repair' at a later, more convenient time that day.
It may be more appropriate for EHCP students to reflect in TAS rather than study support after discussions with the member of SLT with SSI/LGD.
When dealing with students follow the behaviour code of conduct. Be mindful some students may have underlying issues such as bereavement or mental health concerns.
For this system to be effective, we will be sharing it with all stakeholders (including parents, governors etc.). A letter will be sent home to all parents and carers.
You can read more about the system by downloading a copy at the bottom of this page.
Southfields Academy model student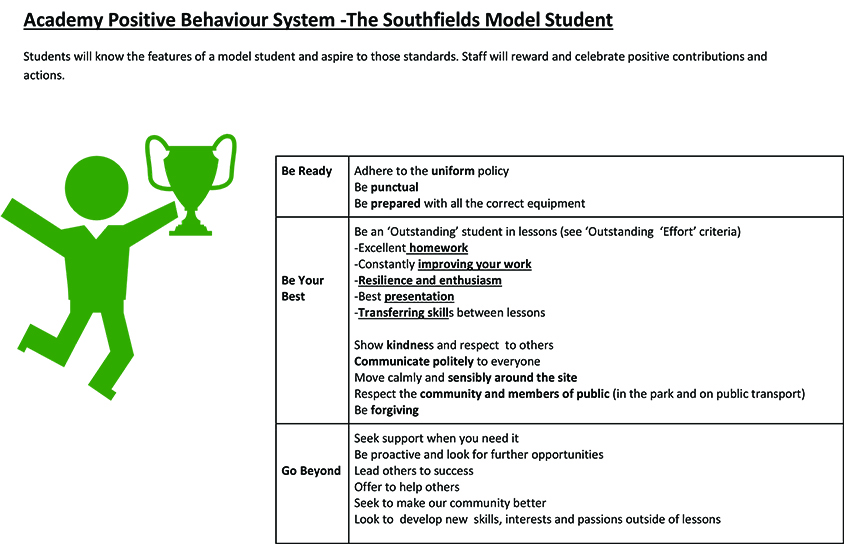 Southfields Academy rewards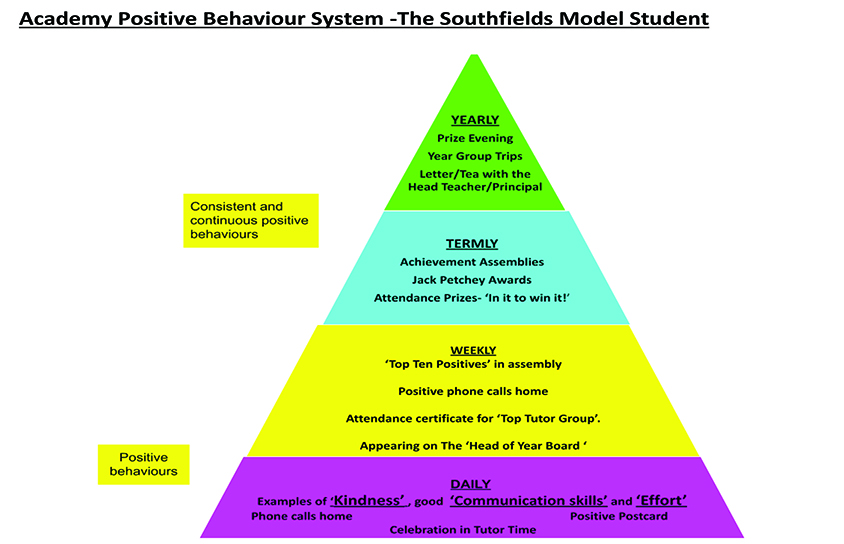 Southfields Academy sanctions