Letter to parents 27th March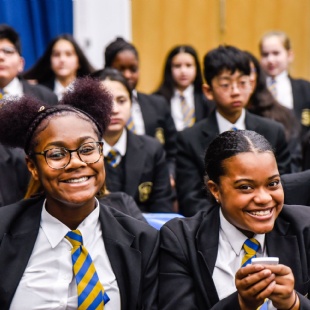 School closure, update for parents 27th March 2020
Dear All,
First of all, I hope you and your families are all doing as well as can be expected during this challenging time.
Secondly, I would like to thank those of you who have got in touch regarding the work your children are being set. It is heartening to see how many of our parents and carers are really trying to keep their child/children learning whilst school is closed.
We very much appreciate your efforts. We also appreciate that some of you have children in different schools and are trying to keep on top of a real range of learning activities which can be very challenging.
Some of you have been in touch to tell us that you think too much work has been set. Others of you have been in touch to say that you would like some more work set or work of a different kind. As a school, here is our advice which we hope will help you:
Remember that all children are different and your child is, of course, unique. What is too little work for one student will be too much for another and the opposite is also true. Unfortunately, we cannot tailor all of the work set for each individual like we can in classrooms.
Encourage your child to work to the best of their individual abilities in each subject,
Don't worry if your child can't complete everything set. We are setting work to fill a school day. But a school day is very different from working alone - children will be discussing things in class and interacting with their teachers and peers in most of their lessons. We know that you can't replicate this at home, especially as many of you have your own work to be doing. For some students, working independently for a day is just what they need but others will need regular breaks and will not be able to complete all of the work on offer.
Of course, we want to be clear with our students that we expect them to keep learning and, as you all know, we have high expectations. This is what helps make us a very successful school. But these are very strange times and the most important thing is the health, both physical and mental, of your children.
Other activities are a good idea to add variety to your child's day and there are many resources available e.g. P.E. with Joe Wicks at 9am each weekday morning or other workouts online. Educational programming across the BBC, ITV and Sky has been expanded, as has BBC Bitesize online. The Premier League is offering a range of football-themed educational resources on their website with some individual clubs, such as Everton, offering language lessons and other resources.
So, our message to you is to do what you can. Be enthusiastic and praise your children for what they are producing. Where possible, take opportunities to explore any questions they may have. But please be aware that we know how difficult things are!
To reassure you all, our teachers are really enjoying receiving your children's work via Google Classrooms and the other online platforms that we are using and there's clearly some great learning going on in lots of households. Teachers have, however, commented that some students are submitting work between the hours of 10.00pm and 6.00am and raised concerns for these students. Where possible, please encourage your child to stick to a daily timetable around normal school hours and normal homework hours so that they stay healthy and have a good balance of activities whilst at home.
Work booklets for Year 7 to Year 10 students have been renewed for week 2 beginning Monday 30th March. These are available on our website. Year 11 to Year 13 students continue to get work set via individual teachers.
Well done for your efforts so far and please don't hesitate to contact us via the usual channels if you've any questions or there is anything that you'd like help with.
With best regards,
Yours sincerely
Jacqueline Valin, Principal Wanda Golinska, Headteacher