Message for Year 11 students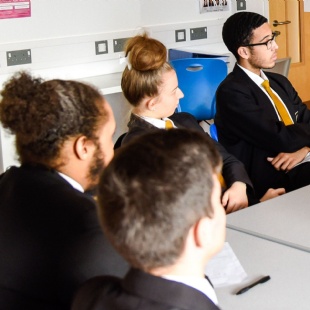 Recent announcement regarding examinations not happening this summer.
Dear Year 11
The recent announcement regarding examinations not happening in May and June has left us all with a lot of questions. Although we do not have all of the answers, we want to provide you with as much reassurance and guidance as we can.
The government have said there will be fair exam alternatives in place, we think there is a possibility that they will use teacher assessment, supported with evidence. Your teachers have been asked to keep your mock examinations scripts and to gather as much evidence for each student as possible and may be in touch with you individually or as classes to ask for items they have already returned to you. If you cannot find something you are asked for or are unsure, do not be worried, ask your teacher for advice and explain what you are worried or unsure about.
We know that you are saddened by the news that you will not get to sit your exams, this is something we have all been building towards.
We are certainly listening to what you are saying to us.
A quote from a Year 13 student
Miss after seeing the news, I'm so stressed like I don't know if it's good or bad because it's like we do not have another chance to prove our hard work.
A quote from a Year 11 student
Ms, as GCSEs are cancelled are we getting our predicted grades or will we get the chance to take them?
It is down to all of us to keep focused and to give each other as much support as we can. Your teachers will continue to have the same expectations of you in terms of work, set work at the usual times and have clear guidelines about the work that you submit to them. The intense period of preparation has most definitely not been wasted.
A quote from a Year 11 student
Ms you see on the news how it said "all examinations are not happening this year" does that mean I'm getting my mock grades or my predicted grades and does that mean I don't have to revise and work anymore?"
The key messages we want to give you are;
Students will be assessed in some way this summer, whether it be a teacher assessment or a different type of assessment the government/exam boards come up with, so it is vital you keep studying and preparing.
If we have to send teacher assessments to the exam boards, we may need evidence to support the grades we submit. During closure we will be setting exam questions and full papers for you to sit that help build a portfolio of evidence that can be used to support a possible forecast grade we give to each of you.
If you are leaving Southfields Academy at the end of Year 11 you may be faced with entrance tests or you may be asked to present a portfolio of evidence, this is another reason why it is vital you continue to work as you have been.
In summary, we have all got to keep working towards that end goal of a good result no matter what form that may take and while it may seem like your end goal has been taken from you it has not, it has just changed due to these difficult circumstances. Ensure you are making full use of Google Classroom, completing all of the work that teachers set and submitting it by the set deadlines.
As soon as we have any further news on GCSE and BTEC courses we will communicate this to you.
End of Year Celebrations
Some of you have commented that this could be your last week in school, with no opportunity to get together to celebrate your achievements and time at Southfields. Please be assured that as soon as school is allowed to operate as normal again you will all be invited in, whether you stay here for Year 12 or if you move on somewhere else, and we will have a celebration event.
Thank you, as ever, Year 11 for your hard work so far this year and remember we are all here to support you.
Keep in touch,
Ms Gray, Ms Minto and all of the Year 11 teachers.