Wandsworth Young Chef of the Year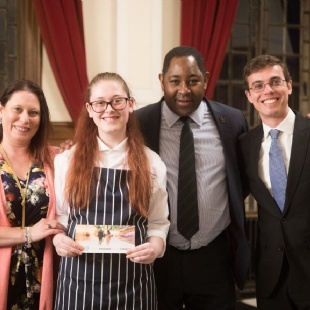 A Southfields Academy student has won the fifth annual Wandsworth Young Chef of the Year competition.
Rose wowed judges with her dish of cod cakes followed by chicken parma ham and a desert of natas de ceu.
The competition is run by the Mayor of Wandsworth and the council's lifelong learning team in association with the borough's schools. It nurtures young talent, teaches young people how to cook good healthy food to a budget, provides a chance to learn from the experts and helps young people get a foothold in the catering industry.
As part of the competition, the young people involved benefited from attending two masterclasses at Billingsgate Seafood School and top London restaurant the Bridge.
The finalists took part in the Mayor of Wandsworth's Young Chef of the Year 2018 Chairty Dinner, which raised money for The Wandsworth Community Safety Trust, St. John Ambulance and the Rotary Club. Students got the opportunity to work with Daksha Mistry, former Master Chef finalist, on preparing for the dinner.
We are very proud of Rose and her achievement in this competition.
Take a look at the video below and hear from all of the young people that took part in the competition.